★ Linking machine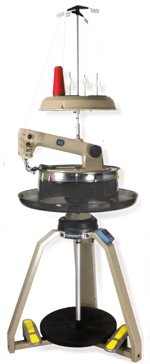 Complett 66-VD
◉ Prices from € 4000,00 + VAT
The linking machine Conti Complett 66-VD is a linking machine with hook needle from the inside.
This model as well has the Complett patent which, thanks to the exceptional system in the stitch making, fully exploits the high speed of the machine (1400 rpm) even if the yarns concerned are lambswool, stretch, nylon, lurex, etc. ..

Technical Specifications
Hook needle inside the point dial with the knitwork linked from the right side.
Brushless motor drive with continual speed converter up to a maximum of 1400 stitches per minute.
Very low power consumption (100 watts).
Arranged for both single and three-phase electric power.
Clockwise or anti-clockwise rotation (on request).
Safety needle stop.
Set for needle positioning.
New spinning platform with easier rotation.
Double speed pedal.
Rotating head.
Stainless steel points.
Very large point dial diameter, 460 mm.
Interchangeable gauges from 4 to 24.
In this section we have proposed just a few models of Conti Complett machines; please don't hesitate to contact us if you need a specific model for industrial knitwear.