Rimoldi Vega II overlock machine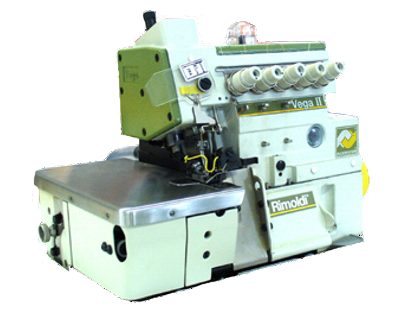 The Vega II is an overlock machine with 1-2-3 needles with safety stitch, fast and with excellent performances for all assembly operations. It has an external oil filter, simplified threading and sewing adjustment, reduced maintenance and easy looper disengagement on class F29.
The Vega II overlock machine is versatile, thanks to the special attention in the design of the moving parts that contribute to the execution of the seam.
Vega II offers a wide range of products that boast excellent performances:
F17: overlock machine with overlock stitch, with cylindrical arm for seams on small diameter garments
F20: double chain stitch (401) overlock machine, 1 needle 2 threads and 2 needles 4 threads
F27: overlock machine with overlock stitch, 1 needle 2 threads (503), 1 needle 3 threads (504), 2 needles 3 threads (509) and 2 needles 4 threads (512-514)
F29: safety stitch overlock machine, 2 needles 4 threads (515), 2 needles 5 threads (516), 3 needles 6 threads (401+515) and 3 needles 7 threads (401+516) 
Technical Specifications
Speed (up to 9000 stitches / minute)
New patented feeding system to improve the advancement of the fabric during the sewing
Low inertia fabric presser bar
Forced pump lubrication
Designed to accept a wide range of devices
Special devices for Vega II
A Mechanical apparatus to operate the differential when the machine is working: allows you to change the differential ratio during sewing by knee press.
Footlifter: pneumatic footlifter device by knee press or back treadle on the platform.
Pneumatic needle cooling apparatus: it reduces the temperature of the needle point.
Vertical type chain-cutter
Pneumatic tape cutter: this device is controlled by knee press or back treadle on the engine pedal. Equipped with a knife fitted behind the needle plate - maximum cutting width 18 mm
Return of the chain stitch at sewing beginning
Automatic cut/insertion of the elastic band
Horizontal type chain-cutter with suction on the work surface behind needle-plate: the chain stitch, drawn through a jet of compressed air (Venturi system), is automatically cut flush with the fabric, at the beginning and end of sewing.